Thank you for your interest in volunteering with the One Institute, Inc. and ONE Archives at the USC Libraries!
---
Since its founding in 1952, ONE has depended on volunteer support to sustain its numerous projects and endeavors. Volunteers at ONE meet new people while engaging with the vast materials housed at the archives. Some volunteer projects include:
Cataloging books and periodicals
Organizing ephemera, photographs, and other objects
Conduct researching for future programs and exhibitions
ONE also offers college-credit internships for undergraduate and graduate students. Interns get a hands-on experience working with archival materials in an unique and dynamic institution.
Please send an email to askone@oneinstitute.org to learn more about various volunteer opportunities, and visit our Jobs and Internships pages for more information.
---

Join the ONE Queer Garden Club
Join an ongoing, enthusiastic group committed to improving the physical garden terrain around ONE Archives at the USC Libraries.
Next Meeting: 
August 18, 10:00am–1:00pm: Garden Club General Meeting
Over time, the garden and OQGC will evolve to build a Legacy Garden, a creative place to commemorate the many queer ancestors who have contributed to our lives and LGBTQ history.
The OQGC will gather at various intervals throughout the year at ONE Archives. Our time will be spent with our hands in the earth and in discussion with each other.
To view an archive of past meeting dates, please click here.

Location: ONE Archives
909 W. Adams Boulevard
Los Angeles, CA 90007
Future dates & times TBD by the members of OQGC.
You do not need to be present for every meeting to be a member or to share your interest.
All levels of gardening skills, knowledge, and abilities are welcome.
You are encouraged to bring: gardening attire, gloves, small garden tools, ideas and creativity.
Refreshments provided.
To follow updates for the ONE Queer Garden Club, please click here.
---
Past Volunteer Events
---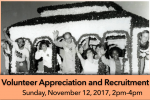 The One Institute, Inc. wants to thank the wonderful volunteers of ONE Archives at the USC Libraries and the One Institute, and to invite those interested in volunteering to join us and learn more.
Please join us for a dessert reception celebrating you! We look forward to seeing you and your guest!
Date: Sunday November 12, 2017
Time: 2pm-4pm
Location: ONE Archives at the USC LIbraries
909 W. Adams Boulevard
Los Angeles, CA 90007
RSVP by clicking here: http://bit.ly/2xMpKEQ
Tours of the Archives will be available. The program will begin at 3:15pm.
If you have any questions, please call (323) 419-2159 or email askone@oneinstitute.org