History of the LGBTQ Civil Rights Movement: The Road to the Stonewall Riots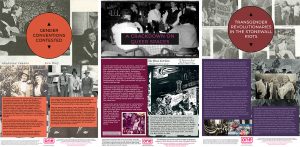 Overview
History of the LGBTQ Civil Rights Movement: The Road to the Stonewall Riots is a limited edition History Panels series released in 2019 to celebrate the 50th anniversary of the Stonewall Riots. This series presents the incredibly inspiring journey of the LGBTQ community leading up to the Stonewall Riots of 1969. Learn about gender non-conforming folks who boldly challenged gender conventions in the early 20th century; the beginning of "gayborhoods" in the 1940s; the Lavender Scare and the establishment of the earliest gay and lesbian organizations in the 1950s; the transgender people of color-led social uprisings in the 1950s and early 1960s; and the Stonewall Riots of 1969 that helped the LGBTQ community lead one of the most important civil rights advancements of the last century.
This History Panels series contains 15 panels that are 24 by 36 inches. As this is a limited edition series, interested parties may only purchase the series in its entirety (not select panels within the series). This History Panels series can be downloaded as high resolution PDFs for digital use or for local printing.
To request pricing, display options, or for general inquiries, please email Trevor Ladner, Education Manager, at tladner@oneinstitute.org.