Episode 1: "Your Transness is Your Fuel" with Rev. Valerie Spencer
In this week's premiere episode of Youspeak Radio, Grae speaks with Reverend Valerie Spencer about her coming of age in Los Angeles and lifelong advocacy for queer and trans people. Recorded on her mother's birthday, Rev. Spencer reflects on her mother LuLu's pioneering allyship as the original "Black LGBTQ center in the hood," her personal journey of embracing authentic living in the face of transphobia, her HIV/AIDS advocacy through Unity Fellowship Church, and her advice to LGBTQ+ youth today.
Trailblazer – Rev. Valerie Spencer
Rev. Valerie Spencer (she/her) is a healer, behavioral health therapist, cultural visionary, national community leader, and interfaith minister based in Los Angeles. A veteran HIV/AIDS service provider, Rev. Spencer is the founder of Holistic Empower Institute, which centers community mental health and healing for LGBTQ+ communities. In 2006, she was featured in the LogoTV documentary "Beautiful Daughters," which highlighted personal experiences of transgender women. In 2022, she co-authored an essay on "The Divinity of Transness" for them. Rev. Spencer is a trailblazer for queer and trans survival, inclusion, and joy.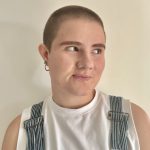 Grae (they/them) is a San Diego native and incoming freshman at the University of California, Davis, where they plan to major in Environmental Policy Analysis and Planning. They are passionate about environmental and queer activism. In their free time, Grae enjoys going to concerts and hanging out with friends.
This Youspeak Radio project is made possible with generous support from the Dwight Stuart Youth Fund.
Music: "Living Life" and "Think BIG" by Scott Holmes, Creative Commons licensed (CC BY-NC 4.0) on FreeMusicArchives.