Youspeak Radio Ep. 6- "Do Your Part" – with Phill Wilson
"There are so many answers that can be found in the process of listening."
For the 6th and final episode of Youspeak Radio, interviewer Jay Vargas-Garcia speaks with LGBTQ trailblazer Phill Wilson.
Phill Wilson is the Founder and former President/CEO of the Black AIDS Institute (BAI). With Jay, he speaks of his formative experience of coming out and living as a Black gay men within the context of the AIDS, "maneuvering, living with, and fighting" the HIV/AIDS epidemic. He narrates becoming ill In 1996 and the timely availability of protease inhibitors that helped him. Phill explains that BAI was founded to address a gap in Black communities regarding science literacy, and how his stepping down at BAI took place in response to the shifting skill sets and lived experiences required by the present. Phill addresses the importance of listening: "There are so many answers able to be found in the process of listening." He encourages LGBTQ+ youth to recognize their power and the responsibility of that power, as well as to understand that leadership is a temporary status. The conversation ends with a reflection by Phill on the gratitude he holds for having the opportunity, every day, to attempt to make a difference.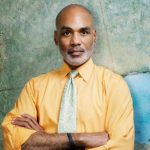 Phill Wilson is the Founder and former President/CEO of the Black AIDS Institute (BAI). He is the current Vice Chair of the Board of Directors for the Foundation of the AIDS Monument, as well as a member of the Board of Trustees for AMfAR (The Foundation for AIDS Research). Prior to founding BAI, Mr. Wilson served as the AIDS Coordinator for the City of Los Angeles, and as the Director of Policy and Planning at AIDS Project Los Angeles. He co-chaired the Los Angeles County HIV Health Commission, was an appointee to the HRSA AIDS Advisory Committee, and served on the Presidential Advisory Council on HIV/AIDS. He co-founded the National Black Lesbian & Gay Leadership Forum and the National Task Force on AIDS Prevention.
Student – Jay Vargas-Garcia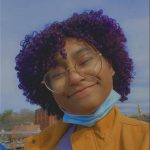 Jay Vargas-Garcia (she/they): I myself am queer, so it's a given that I would like LGBTQ+ history. I participated in the YouSpeak Radio, and have learned so much about the past and present of LGBTQ activism. I like finding connections between older events and more current events, and seeing how we have progressed this far. I enjoyed the program so much, and I will keep an eye out for more programs like this!
This episode is a part of the Youspeak Radio project, made possible with support from the Dwight Stuart Youth Fund and California Humanities, a non-profit partner of the National Endowment for the Humanities. Visit www.calhum.org.
Music: "Living Life" by Scott Holmes, Creative Commons licensed (CC BY-NC 4.0) on FreeMusicArchives.