Youspeak Radio Ep. 5- "You Are Our Legacy" – with Roland Palencia
"Trust the movement. There are going to be disappointments… But there is an inner part of you that knows that you're doing the right thing."
In this episode of Youspeak Radio, youth interviewer Dean Campbell speaks with trailblazer Roland Palencia about viewing art as a political tool as well as a conduit for personal development, and learning alongside the next generation of LGBTQIA+ changemakers.
Born and raised in Guatemala by a revolutionary father, Roland Palencia talks about the importance of feeling represented in images and the necessity of doing self-work. Having lived in Los Angeles in the 1980s during the beginning of the AIDS epidemic, Palencia quickly saw art's ability to achieve political goals. He recalls founding VIVA!, an LA-based collective formed to preserve the legacies of LGBTQ Latin artists who died from AIDS. The precarity of success is a lesson he carries forward into the present time, where he works to ensure that LGBTQIA+ history is kept alive by working as a mentor, keeping sight of what he calls a "longer view."
Roland Palencia is an LGBTQ activist pioneer, and founded a number of Queer Latin organizations in the 1980s, including Gay and Lesbian Latinos Unidos and VIVA!, an arts organization. Currently, he is the Community Benefits Director and a leadership trainer at L.A. Care Health Plan, the largest public health plan in the nation.
He is the former Executive Director of Equality California, a statewide organization dedicated to securing legal protections for LGBTQ communities in California. In 2003, he was appointed as the Greater Los Angeles Regional Director at The California Endowment, the largest private health foundation in California.  In 1999, he held the position of Executive Director at Clinica Monseñor Oscar A. Romero, and in 1992, he was appointed as the Chief of Operations and Vice-President at the AIDS Healthcare Foundation. He has received numerous recognitions and awards for his community service, including "Local Hero" by PBS-KCET and Union Bank of California.  He is a former Antioch University Los Angeles Board of Trustee.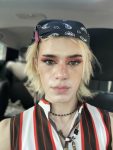 Hi, my name is dean campbell (he/they/she) and I am a college freshman at Queens University Of Charlotte. I love all things Queer history. Some of my passions include art in all forms and mediums not limited to drag, makeup, painting and so much more. you can reach out to me at @makeupby_dean on Instagram.
This episode is a part of the Youspeak Radio project, made possible with support from the Dwight Stuart Youth Fund and California Humanities, a non-profit partner of the National Endowment for the Humanities. Visit www.calhum.org.
Music: "Living Life" by Scott Holmes, Creative Commons licensed (CC BY-NC 4.0) on FreeMusicArchives.