Episode 3: "Bisexual is Beautiful" with Dr. Mimi Hoang
In this week's episode of Youspeak Radio, Marbella speaks with Dr. Mimi Hoang about her journey to becoming a national voice on bisexual inclusion and wellness. Dr. Mimi reflects on her coming of age as a Vietnamese refugee in California, the critical support of her college therapist, how she drew strength from her ethnic identity, her Bi+ advocacy from Los Angeles to the White House, and her advice for LGBTQ+ youth who want to live authentically.
Trailblazer – Dr. Mimi Hoang
Dr. Mimi Hoang (she/her) is a psychologist, educator, author, and grassroots activist specializing in the LGBTQ+ and Asian Pacific Islander (API) communities. A Vietnamese refugee and first-generation college student, she has co-founded three organizations, including the Los Angeles Bi+ Task Force, for people who identify as bisexual, pansexual, and fluid. In 2013, Dr. Mimi presented on Bi+ mental health disparities at the White House and has been named "One of the Most Significant Women in the Bisexual Movement." Dr. Mimi currently works as the Program Coordinator of the LGBTQIA+ Affirmative Therapy Center at Airport Marina Counseling Services. She lives in LA's South Bay with her wife and two rescue cats. Dr. Mimi is a trailblazer for API and Bi+ health and wellness.
Youspeak Fellow –  Marbella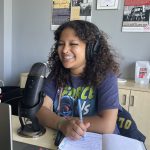 Marbella (she/they) is a rising senior from Inglewood, Los Angeles. She is the president of the LGBTQ+ Club at her high school where she has organized Pride events and resources for LGBTQ+ students. They are also a dance team member and a student ambassador. Outside of school, she has been a leader in a college preparation program for underrepresented students. They proudly identify as bisexual and aspire to be an engineer.
This Youspeak Radio project is made possible with generous support from the Dwight Stuart Youth Fund.
Music: "Living Life" and "Think BIG" by Scott Holmes, Creative Commons licensed (CC BY-NC 4.0) on FreeMusicArchives.