Periodically Queer Ep. 2 – "A Beacon of Hope" – on Homan
"We're becoming more visible. We are provoking. We are getting people to react and we were on the right track."
In this episode of Periodically Queer, host Erik Adamian takes listeners on a journey to learn about Homan, an organization and magazine formed to advocate for the rights of Iranian LGBTQ people living abroad. Erik speaks with Albert Maghbouleh and Payam Ghassemlou, co-founders of Homan Los Angeles, about their efforts to support the LGBTQ Iranian community worldwide and confront homophobia within the larger Iranian community. 
Albert shares the story of bringing Homan with him on a trip to Iran, reflecting on the risks he took to distribute the magazine in the 1990s and early 2000s. Payam speaks out about the importance of LGBTQ representation in creating visibility and hope for future generations. 
Albert Maghbouleh was born in Iran to a Jewish family in 1958. In 1975, he moved to Eugene, Oregon where he finished his senior year of high school and received a MS in Computer Science from the University of Oregon. Albert moved to Los Angeles for a job in 1981 and has been living there since then. He became involved with Homan organization in the 1990s.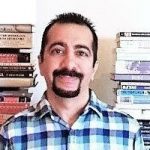 Payam Ghassemlou MFT, Ph.D. is a psychotherapist (licensed marriage and family therapist) in private practice in West Hollywood who specializes in working with the LGBTQ+ community. As a writer, speaker, and activist, he addresses concerns such as climate justice, women's rights, LGBTQ+ liberation, and racial equity.
This episode of Periodically Queer is hosted by Erik Adamian; produced by Umi Hsu; edited and engineered by Quincy Surasmith. Music by Analog Tara. Research support by Jaime Shearn Coan and Ambika Nuggihalli. Graphic design by Maxwell Fong. Production support by Shei Yu and Fati Zulaikha.

This Periodically Queer episode is made possible by a grant for the City of Los Angeles Department of Cultural Affairs.
Image credits: banner image by One Institute. All other images, ONE Archvies at the USC Libraries.