Episode 4: "Transcend the Binary" with Dorian Wood
In this week's episode of Youspeak Radio, Elliot speaks with Dorian Wood about the magic expressed in non-binary identity and queer love. Dorian reflects on the complexities of gender as a self-described "pegacorn," her own experiences blazing trails in mainstream music performance spaces, the power of love in creating personal and collective freedom, and their advice to LGBTQ+ youth today.
Trailblazer – Dorian Wood
Dorian Wood (she/they) is a multidisciplinary artist based in Los Angeles. Her intent of "infecting" spaces and ideologies with her artistic practice is born from a desire to challenge the marginalization of people. They have performed internationally at museums and festivals, including The Broad, REDCAT, Museo Nacional Del Prado, the City Hall of Madrid, and Teatro de la Ciudad Esperanza Iris in Mexico City. She has released over a dozen music recordings, including XALÁ, (2017), their first full-length work in their mother tongue of Spanish. As a visual artist, Wood has exhibited illustrations and video installations internationally, and has also directed several short films. Dorian is a trailblazer for Latinx, genderfluid, and nonbinary artists.
Youspeak Fellow –  Elliot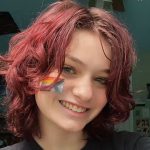 Elliot (they/them) is a rising sophomore from Austin, Texas. They have served as a youth ambassador for the It Gets Better Project, co-founded the GSA at their high school, and currently lead a mentorship program for middle school students.Elliot aspires to be a teacher and an LGBTQ+ advocate. They love art and their pet rat Raymond. They identify as queer and nonbinary.
This Youspeak Radio project is made possible with generous support from the Dwight Stuart Youth Fund.
Music: "Living Life" and "Think BIG" by Scott Holmes, Creative Commons licensed (CC BY-NC 4.0) on FreeMusicArchives.