Episode 5: "History is a Powerful Tool" with Dr. Amy Sueyoshi
In this week's episode of Youspeak Radio, our high school fellow Madeline (she/they) speaks with Dr. Amy Sueyoshi about queer Asian-American identity and the power of knowing our histories. Dr. Sueyoshi reflects on feeling supported and empowered as part of San Francisco's intergenerational API Queer Women and Transgender Community (@apiqwtc).
Trailblazer – Dr. Amy Sueyoshi
Dr. Amy Sueyoshi (she/they) is Provost and Vice President of Academic Affairs at San Francisco State University, having previously served as dean of the College of Ethnic Studies. A historian by training, she is the author of Queer Compulsions: Race, Nation, and Sexuality in the Affairs of Yone Noguchi and Discriminating Sex: White Leisure and the Making of the American "Oriental." Her essay "Breathing Fire: Remembering Asian Pacific American Activism in Queer History" is a part of the award-winning National Park Service LGBT Theme Study of 2017. Dr. Sueyoshi helped found the GLBT History Museum in San Francisco, the Dragon Fruit Oral History Project, and the Committee on LGBT History's Queer History Conference. Her numerous awards include a Clio Award, San Francisco Pride Community Grand Marshal, and the APIQWTC's Phoenix Award. Dr. Sueyoshi is a trailblazer for queer sapphics and Asian Americans in academia and public history.
Youspeak Fellow –  Madeline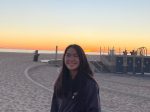 Madeline (she/they) is a rising junior from Woodside, CA. She is the president of her school's music program, and a member of marching band, jazz band, and concert band. They volunteer at their local Boys and Girls Club. In their free time, Madeline enjoys reading and cooking. She is passionate about history and aspires to be a high school teacher. She identifies as queer and is a member of her local LGBTQ center's youth advisory board.
This Youspeak Radio project is made possible with generous support from the Dwight Stuart Youth Fund.
Music: "Living Life" and "Think BIG" by Scott Holmes, Creative Commons licensed (CC BY-NC 4.0) on FreeMusicArchives.