Episode 6: "Anyone Could Be President" with Terence Alan Smith a.k.a Joan Jett Blakk
In this week's finale episode of Youspeak Radio, Diego (he/him) speaks with Terence Alan Smith about his coming of age as a Black queer kid in Detroit in the 1970s, how the AIDS crisis and the Black Panthers motivated him to get political, how he used his drag queen presidential campaign to draw media attention to queer issues in the 1990s, and his advice for LGBTQ+ youth today.
Trailblazer – Terence Alan Smith a.k.a Joan Jett Blakk
Terence Alan Smith (he/him), also known as Joan Jett Blakk (she/her), is an activist, political candidate, and drag queen. Smith began performing in 1974, calling his drag persona a blend of Divine, David Bowie, and Grace Jones. In 1990, Smith helped found Queer Nation Chicago, a direct action group that challenged AIDS neglect and police discrimination. In 1992, as the Queer Nation Party candidate, Blakk ran for President of the United States to elevate LGBTQ+ issues in national media. Her campaign has been memorialized in The Beauty President, a short film from Whitney Skauge and the L.A. Times Studio. Blakk's art and activism also inspired a play that debuted in Chicago in 2019 and the work of international contemporary artists. Smith is the recipient of the Queer Art Prize for Sustained Achievement for Blakk's "powerful dedication to the lives of Black, LGBTQ+ communities across the nation." Smith is a trailblazer for Black queer representation in contemporary art and American politics.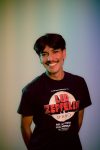 Diego (he/they) is a rising senior from Los Angeles. He is proudly Chicano and queer and is passionate about activism at the intersection of those experiences. As a member of the LGBTQ+ community, he works to ensure a better future for LGBTQ+ youth and the community as a whole. He aspires to study film and television production, and pursue a career in storytelling.
This Youspeak Radio project is made possible with generous support from the Dwight Stuart Youth Fund.
Music: "Living Life" and "Think BIG" by Scott Holmes, Creative Commons licensed (CC BY-NC 4.0) on FreeMusicArchives.