Issue 14 – How Do We Envision Our Future – July 10, 2020
This week, we explore the multiple perspectives and imagery of a queer future. What does the future look like? What does it feel like? Who is there? What are they doing? The LGBTQ community has been fascinated with these questions for a long time. Jim Kepner, a co-founder of ONE Archives, was an avid science fiction fan and collector of science fiction literature. He saw a queer future in which history is essential.
As we face the uncertainty of our near future, let's not forget that the LGBTQ community has long transformed feelings of uncertainty into possibilities of change. A source of our resilience is to derive new meanings from looking at our past and imagining models of a better world. In Issue no.14, we recommend a podcast on spirituality and politics of systemic transformations, self-help/society-help book inspired by queer Afro-futurism, futurist pop music by Iranian-Dutch singer, and social media documentation of the LA underground queer and trans POC community. And because youth are our future, we share a young adult fantasy novel and a new online exhibition featuring youth projects that explore queer art, culture and liberation. We invite you to speculate on the transformative potentials of our collective future.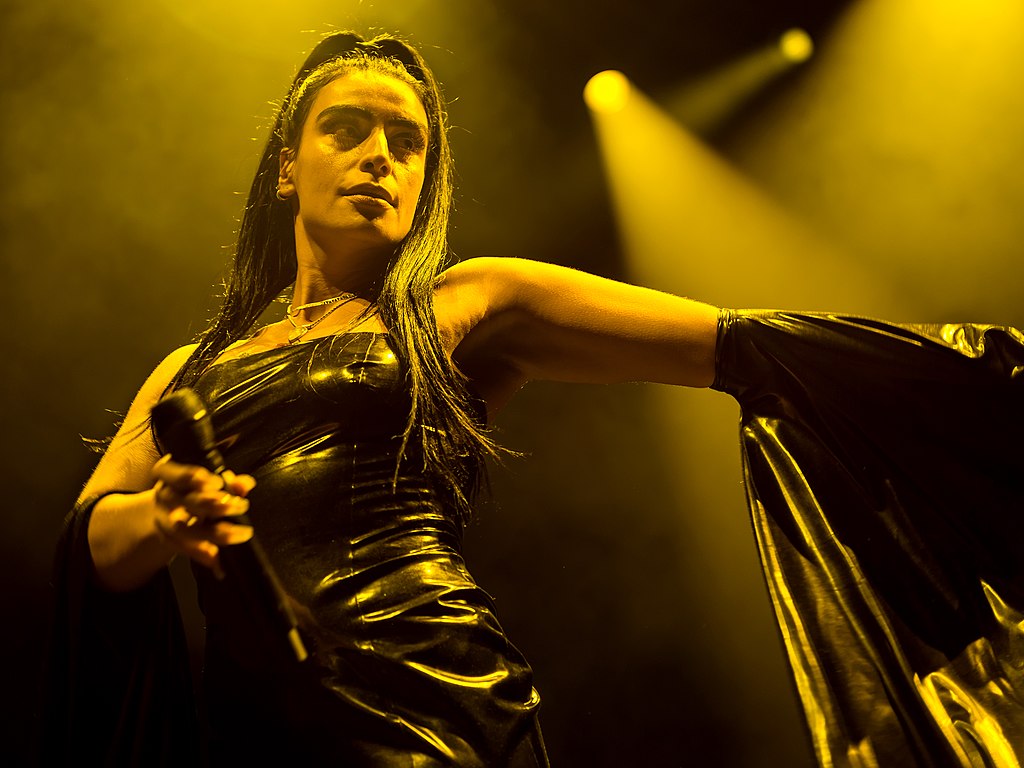 Sevdaliza (Musician)
Sevdaliza's music is nothing short of transformative for me. The Iranian-Dutch singer's genre-defying sound flows somewhere in the midst of avant-pop, experimental-pop, futurist-pop and "pure and raw" in her own words. Tackling womanhood, racism, political injustice and in general, identity formation, Sevdaliza's music explores the intersections of her identities. Her first Farsi song "Bebin," released in 2017, responds to the Executive Order 13769, commonly referred to as the "Muslim ban." Check out Sevdaliza's music on Spotify.
– Erik Adamian, Associate Director of Education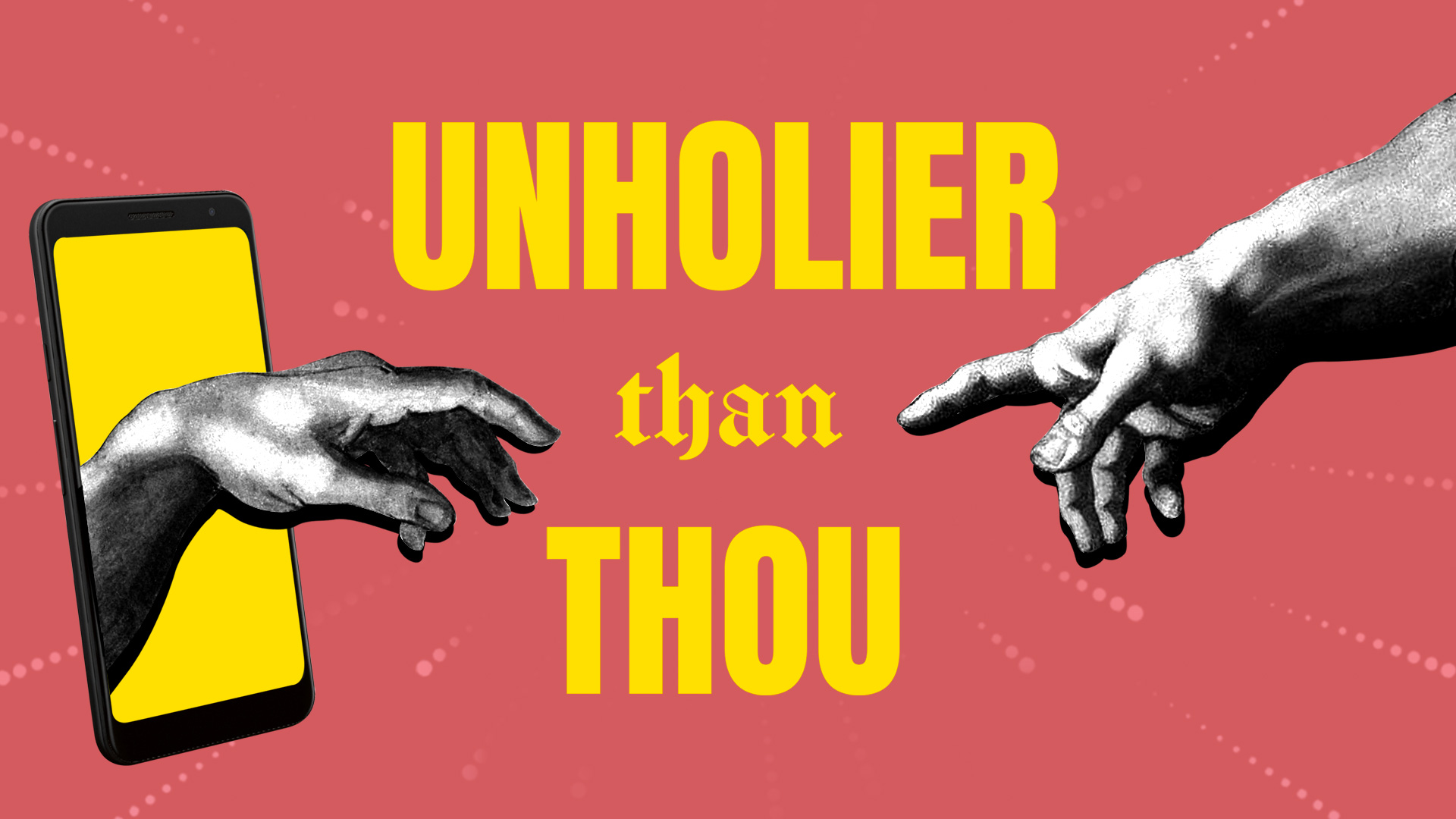 Unholier Than Thou (Podcast)
Journalist Phillip Picardi has recently released a new podcast called Unholier Than Thou, which explores his faith and spirituality "by learning how faith plays a role in other people's lives." As someone who has had an on-and-off again (and again, and again) relationship with my faith, I appreciate the perspectives brought to the conversation by Phillip and the folks who join him. In a recent episode entitled "House of (Tarot) Cards" released on July 3, 2020, Philip speaks with Black trans artist and organizer Tourmaline about the nationwide protests that have responded to murder of George Floyd, tarot, and the role spirituality plays in attempting to dismantle power structures.
– Nick Bihr, Education and Outreach Assistant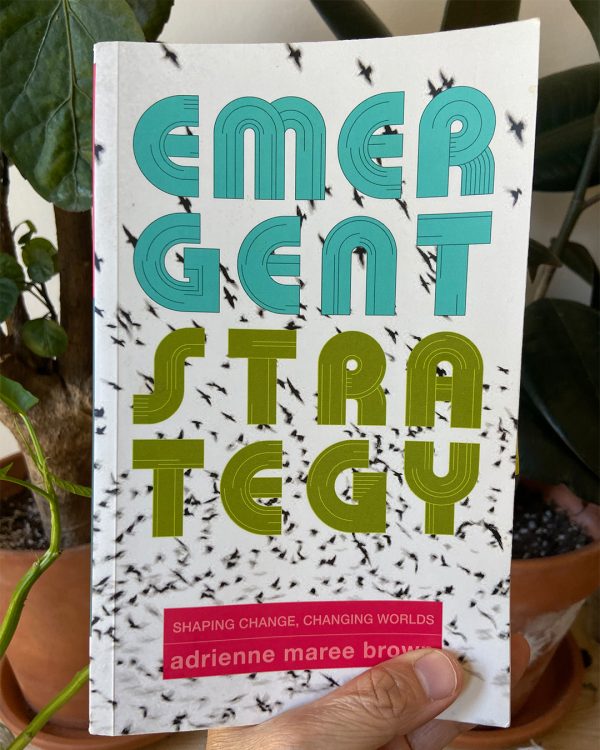 Emergent Strategy by adrienne maree brown (Non Fiction)
I started reading adrienne maree brown's Emergent Strategy: Shaping Change, Changing World at the beginning of this year. With a brilliant mind for envisioning and implementing strategy for social change, adrienne maree brown is a thinker and doer within the world of social justice work, with decades of professional experience as a nonprofit consultant and facilitator. Drawing inspirations from Octavia Butler, who authored many science fiction novels centering queer characters of color, brown speculates a future in which the world can be transformed by changes through adaptive and relational practices.
The book reads like a revolutionary's notebook — thoughtfully crafted to be pedagogical. With multiple entry points, this book contains first-person accounts of growth as a queer person of African-European heritage, poetry, excerpts from Afro-futurist fiction, reflections on social movements, friendships and relationships with lead organizers of our time, and advice for personal and community activism. Like a compendium of progressive great thinkers across a range of disciplines including literature, art, biology, quantum mechanics, history, philosophy, religion, and more, brown ravenously absorbs and puts disparate traditions of thoughts and practices into dialog.
I have this book by my side every morning when I drink tea. It's reactivated the "Personal is Political" mantra from the civil rights era and adapted it for the networked society that we live in today. These lessons and reflections on mobilizing change in everyday life has helped ground me during this tumultuous time. For even more contemporaneous engagement from brown, follow her on Instagram for writing exercises and action tips.
– Umi Hsu, Director of Content Strategy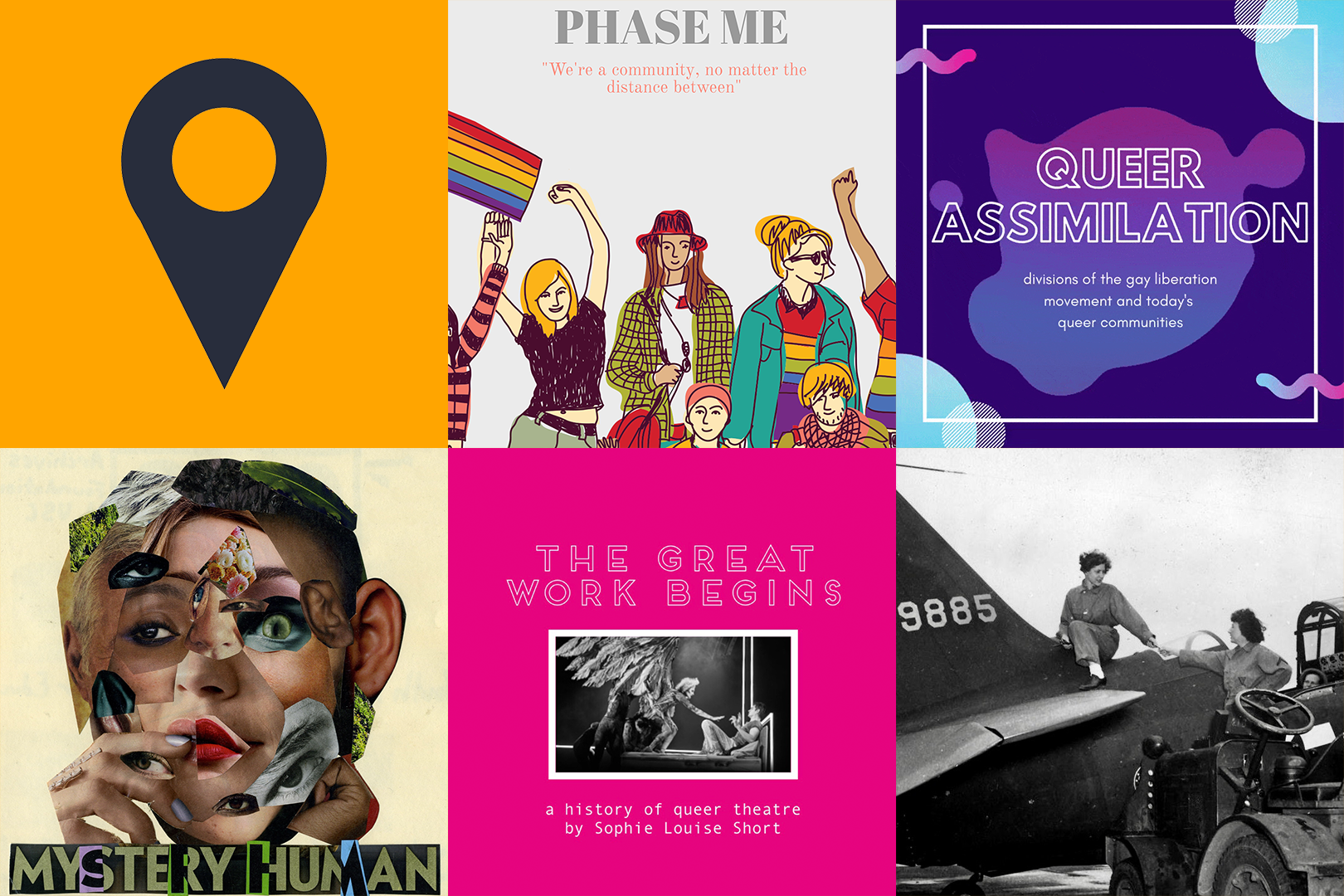 you are here (Online Exhibition)
Don't be surprised by the bold reflections on LGBTQ history from 17 and 18 year olds. The One Institute Education Team is thrilled to present you are here, an online exhibition curated by the Youth Ambassadors for Queer History 2019-2020 cohort, with works that explore queer art, journalism, identities, and liberation from the archives and present conversations. Each contributing artist is showing a creative project of their own that offers a new light on queer history and a new oulook on our future.
Before the start of the pandemic, the Youth Ambassadors originally envisioned a space that was more than an art exhibition. They wanted a reading nook with a comfortable couch, a shelf of books that they recommend, a record player that visitors could spin while viewing their work, and overall a communal space where they could hang out. We have migrated all of this into the digital sphere. The full exhibition will be up on July 16th, where you can view book titles and listen to a curated Spotify playlist while viewing their works.
Congratulations! We are so proud of you.
– One Institute Education Team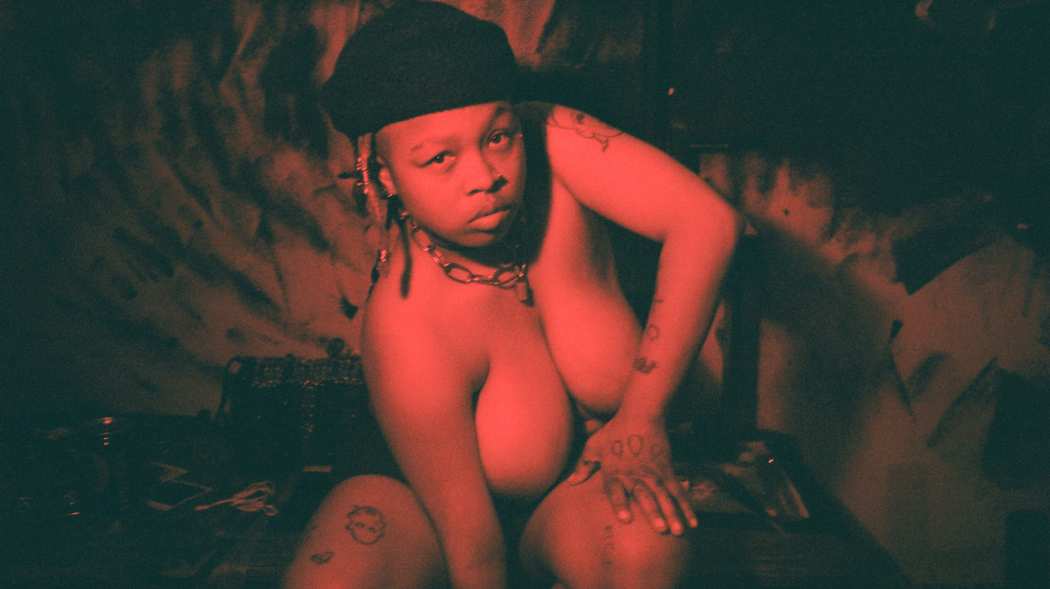 look.at.us.zine (Social Media)
LOOK AT US is the zine celebrating LA's queer Black creative underground. LA-based stylist and photographer Gena Tuso started the zine LOOK AT US several years ago, with the intention of documenting underground scenes across the world.
– Jennifer C. Gregg, Executive Director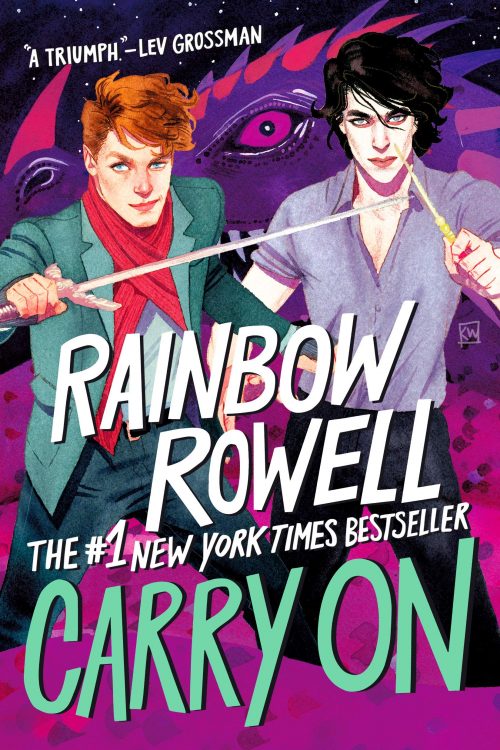 Carry On (Young Adult Fiction)
Since JK Rowling has been in the news lately for her dangerous, offensive, and transphobic views, you may be on the lookout for a new queer-friendly Young Adult fantasy series, and I'm here to suggest Carry On by Rainbow Rowell. The first novel follows the adventures of the "Chosen One" Simon Snow in his final year at boarding school for magicians (sound familiar yet?). Snow must team up with his roommate and nemesis, Baz Grimm-Pitch, in order to defeat a threat to the magickal world, and well, let's just say that their wands aren't the only things that are sparking.
Rowell was inspired to write Carry On after creating a fictional Simon Snow series for Fangirl, a novel about a young woman who's found refuge in writing fan fiction. The second novel in the Simon Snow series, Wayward Son, was published in 2019, and a third has been announced.
– Jen Dawson, Director of Development
Image credits: (1) Sevdaliza performing live at The Novo DTLA on her "The Wanderess World Tour," in downtown Los Angeles, CA. February 23, 2018. Shot for Pass The Aux. Justin Higuchi, photographer. (2) Image courtesy of Unholier Than Thou or Crooked Media. (3) Cover of Emergent Strategy: Shaping Change, Changing World. Umi Hsu, photographer.  (4) A collage of works featured in the online exhibition you are here. Image by One Institute. (5) Jupiter Black, LOOK AT US Issue 4. Gena Tuso, photographer. (6) Book cover for Carry On by Rainbow Rowell. Kevin Wada, Illustrator. Olga Grlic, designer.