Issue 15 – How We Come Together – July 24, 2020
Four months ago, we launched #Queerantine to help keep you informed and connected to the LGBTQ community when the first Safer at Home orders were initiated throughout the country. Since then, we've offered 15 issues, with more than 100 recommendations of LGBTQ books, movies, televsion series, podcasts, musicians, games, virtual events, recipes, social media accounts, and other cultural connections. But… the time has come. We are winding down our Queerantine platform, as we recognize that we need to make space for other conversations. This is our final issue.
Building a sense of queer belonging in the time of social distancing is not trivial. We have found ways to be together while being in physical isolation in these four months. Queerantine recommendations have reminded us of how we build community, listen to and stand up for one another, reimagine our current realities, and envision a collective future.
In this final issue entitled "How We Come Together", we revisit the notion of bridging across social spheres, a dynamic that has helped ignite and advance queer liberation movements. In issue no.15, we share recommendations that help us connect with a different corner in our world. This includes a letter-writing project across prison walls, performance art video exploring the fringes of a queer teen's intimacy and belonging, magazine with a commitment to pluralistic LGBTQ+ storytelling, social media account dedicated to wide-ranging expressions of queer women, science fiction about surviving a fractured society in the near future, and TV show about an intergenerational queer romance and mental health. We invite you to reach across another universe, and think expansively about who we are as a community.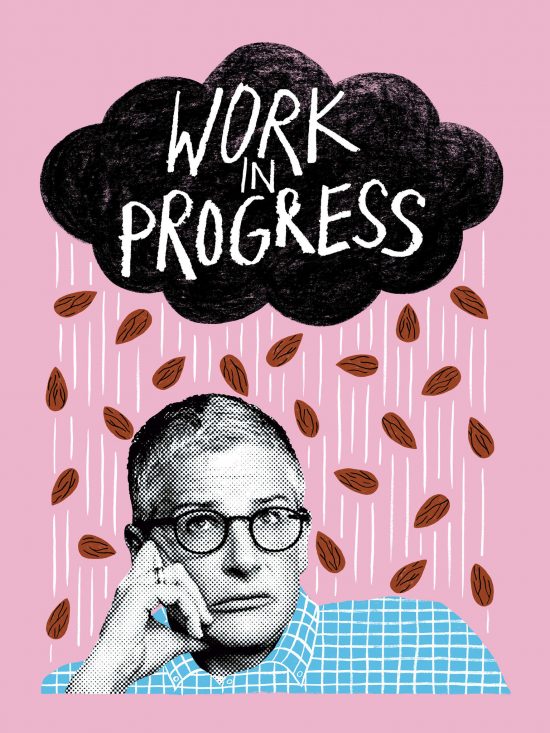 Work in Progress (TV Series)
This new comedy series from Chicago comedy & improv star Abby McEnany will have you alternately rolling on the floor in hysterics and squirming uncomfortably in your chair. McEnany plays a fictionalized version of herself, a fat middle-aged dyke living with mental illness. The series explores what it means to be queer, showcasing intergenerational characters from all along the sexuality & gender spectrum (though it could use more BIPOC representation).
The first episode begins with Abby's therapist dropping dead mid-session. Abby's day goes from worse to worst when she runs into former Saturday Night Live cast member Julia Sweeney in a bar, whose gender-ambiguous SNL character Pat "ruined her life." (I think Sweeney is doing some atoning here for developing/playing that character). Just as she hits what she thinks is rock bottom, Abby has a meet-cute with Chris, a 20-something trans man and a relationship blossoms between the two.
Throughout the eight episodes, we follow Abby as she hits high highs and low lows, revisits her past, and deals with contemporary hot-button issues like bathroom access and dead-naming. It's a journey well worth taking.
– Jen Dawson, Director of Development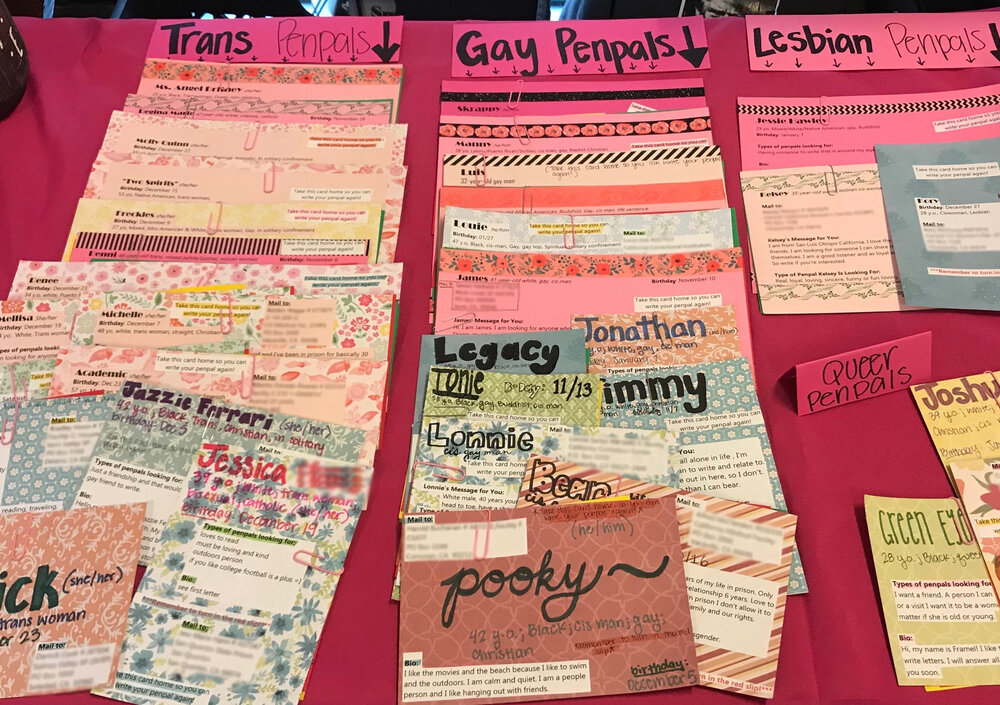 Write a birthday card to incarcerated queer and trans people (Activity)
Power Blossoms is a Southern California-based abolitionist organization that builds coalitions across prison walls in the fight against oppressions. As a part of their COVID-19 response, Power Blossoms is mobilizing communities to think about how "prisoners are not 'safer at home' and are in fact dying and suffering disporporationately from the pandemic, due to administrative negligence and abuse."
One project that has caught our attention is Power Blossoms' letterwriting program that provides opportunities for people to make pen pals with incarcerated queer and trans individuals. This project reminds us of the history documented in our exhibition Metanoia:Transformations through AIDS Archives and Activism, which closed abruptly due to the Stay at Home orders, as it explores the intersection of racial justice and healing. A very moving part of the exhibition features a series of letters between Joann Walker and Judy Greenspan. Through these letters written on yellow legal pads, we learn how change can happen. World-building happens through relationship building, one connection at a time.
Each month, Power Blossoms compiles birthday and biographical information of queer and trans people on the inside, so folx on the outside can write a birthday card to these individuals. All of this process is organized by a user-friendly online system, which also accepts photos and scans of handwritten cards and artwork. All submissions are printed and mailed by hand. Each card includes a check-in survey designed to inform the organization's COVID-19 response. The next round of letters are due by July 31, 2020. We encourage you to write a note, make a pen pal, and start a transmative conversation.
– OAF Content and Exhibitions Team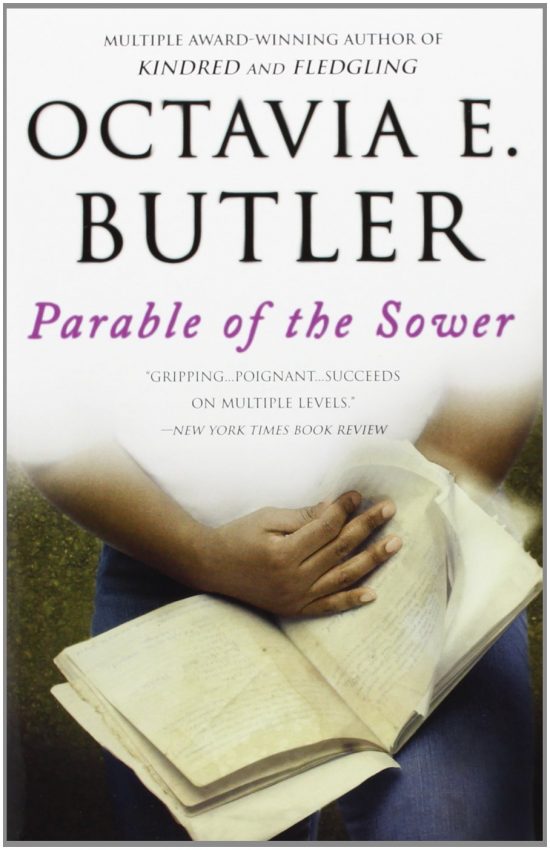 Parable of the Sower by Octavia Butler (Novel)
We're at the end of our #Queerantine campaign, we remain under some form of Stay at Home order, and my very full bookshelf that I hoped to get through during this time still yearns to be read! One of those books is Parable of the Sower by Octavia Butler, the queer Black science fiction writer. The first of two books in the Earthseed series, Parable of the Sower was written in 1993 and is set in the future (the 2020s) and features a society that has been collaped due to climate instability, wealth inequality, and corporate greed, among other systems that have ravished the world. The main character, a Black teenager named Lauren Oya Olamina, develops her own belief system and sets off from her walled-off neighborhood in Los Angeles to create a new community to live in and survive.
Parable of the Sower has influenced pop culture on many fronts: it's been adapted into a concert series, inspired a podcast by adrienne maree brown and Toshi Reagon, and has been featured in music, television series, and movies.
Butler was born and raised in Pasadena, CA. She worked at the Huntington Library and today her papers are held in their archives. During the 1950s, Southern California was home to a flourishing Science Fiction community which often overlapped with the queer community; ONE's co-founder Jim Kepner amassed a great collection of science fiction material and also started a magazine, Toward Tomorrow.
– Nick Bihr, Education and Outreach Assistant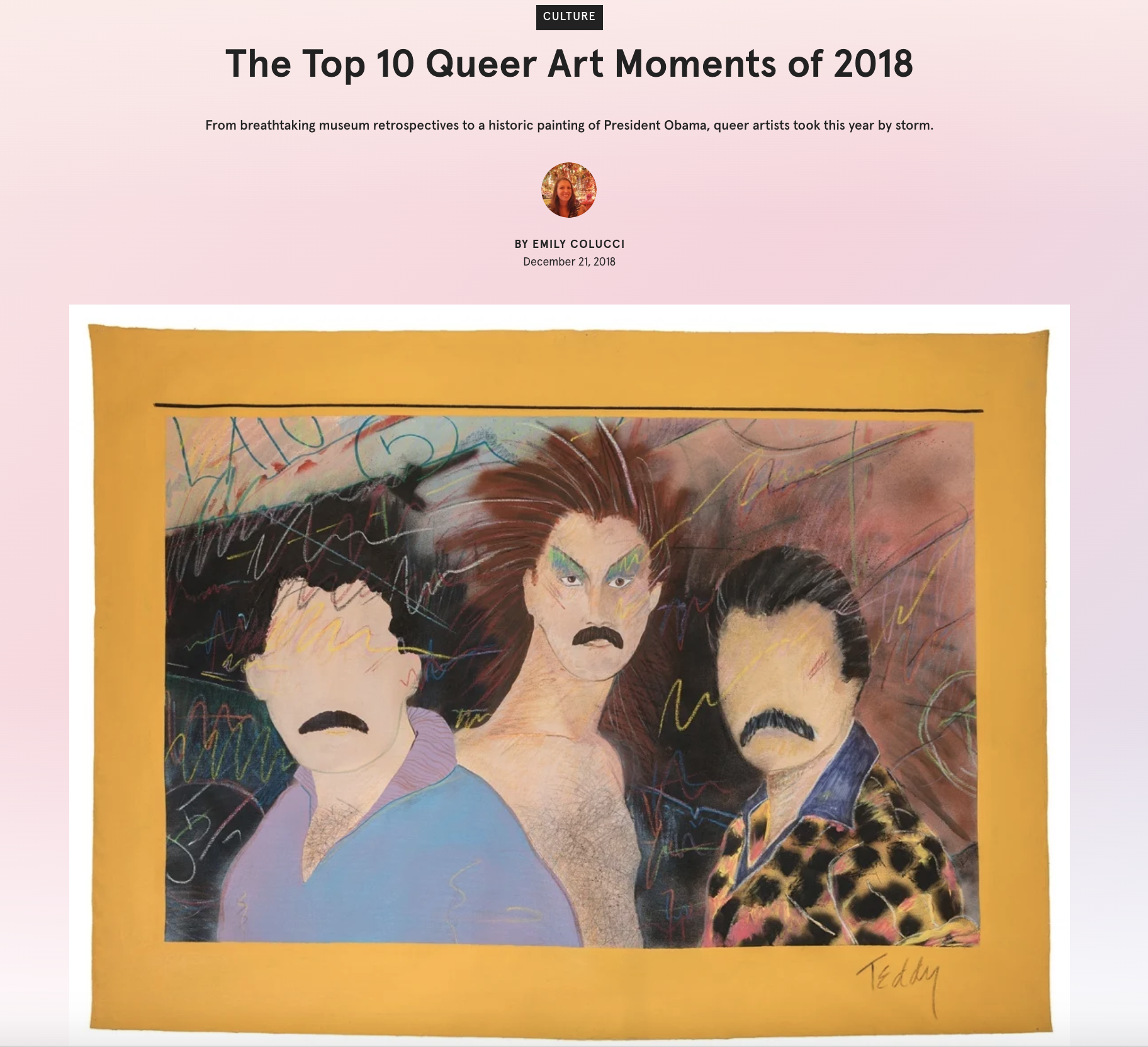 them. (Online Magazine)
I've been a huge fan of them. since its beginnings. As "a next-generation community platform," them. centers and highlights QTPOC voices, creating a comprehensive and easily navigable hub for LGBTQ content. Whenever I want to learn more about LGBTQ news, cultural discussions, or experiences highlighted in personal essays, them. is one of the first places I visit for insightful articles.
In 2018, them. selected Axis Mundo: Queer Networks in Chicano L.A. as one of the top ten queer art moments for the year. Organized by ONE Archives at the USC Libraries and MOCA for Pacific Standard Time: LA/LA, Axis Mundo is now a traveling exhibition by Independent Curators International (ICI). Last year, them. interviewed Alexis Heller, an independent curator, social worker, and One Institute LGBTQ Research Fellow, about the exhibition On Our Backs: The Revolutionary Art of Queer Sex Work. Heller discusses researching at ONE in this interview.
I encourage you to learn more about our community through them.!
– Erik Adamian, Associate Director of Education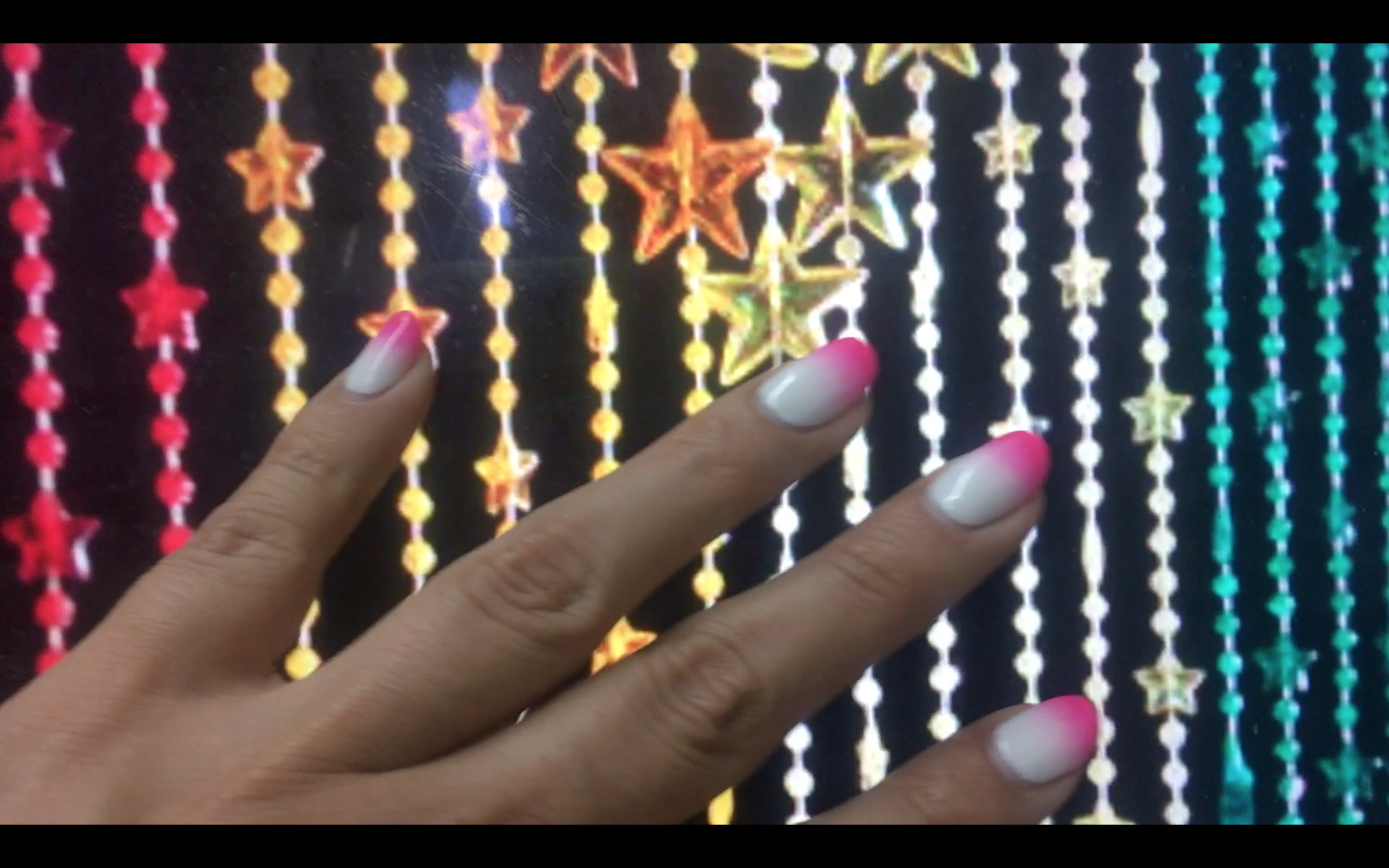 Desert Nightz by Paul Pescador (Performance Art/Video)
The pandemic has transformed spaces of queer belonging. Artists have recreated these spaces of desires and love in innovative ways. One of the most original responses that I've seen is LA-based trans nonbinary artist, performer, and filmmaker Paul Pescador's most recent performance, Desert Nightz, a three-act puppet show/performance event. This performance event was produced by JOAN Los Angeles, and premiered on Twitch on July 17-19, 2020.
In this 40-minute performance, Paul recounts their feelings of being a young queer teenager, while enacting intimate memories and the dynamics of visiting gay bars in the early 2000s. It's a journey about adventures, pleasures, and heartbreaks, all done with playful humor.
I especially love the beautiful tension between longing and curiosity that makes up the complex psyche of queer youth and romance. I've been watching Paul's works over the years and have really enjoyed this recent bold move toward internet-mediation of queer intimacy in real time. This adds a relevant, timely layer to how we locate ourselves within our built environment/infrastructure, in the time of COVID-19, and towards spaces for queer safety and affirmation.
[CONTENT WARNING: sex]
– Umi Hsu, Director of Content Strategy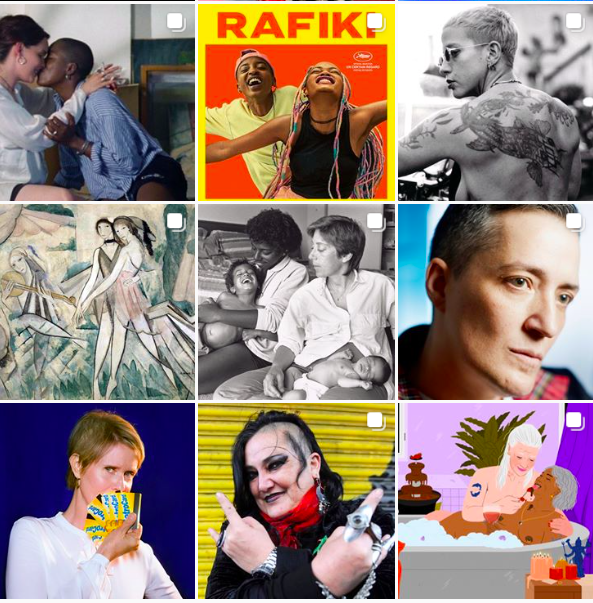 @h_e_r_s_t_o_r_y (Social Media)
I love that there are so many social media accounts capturing our community's stories! One of my favorites is @h_e_r_s_t_o_r_y, a channel that showcases lesbians in pop culture, history, media, and everyday life. Check out the more than 3,000 posts and images of dykes, femmes, butches, and more!
– Jennifer C. Gregg, Executive Director
Image Credits: (1) Poster for Work in Progress. Photo by Showtime. (2) Image courtesy of @powerblossoms. (3) Book cover for Parable of the Sower by Octavia E. Butler. (4) Screenshot of them. article featuring a work from Axis Mundo. Teddy Sandoval, Las Locas, c. 1980. Acrylic and mixed-media on unstretched canvas, 39 x 52½ in. (99 x 133.4 cm). Courtesy of Paul Polubinskas. Photo by Fredrik Nilsen. (5) Screenshot from Desert Nightz, a Video Performance by Paul Pescador. (6) Screenshot of @h_e_r_s_t_o_r_y grid on Instagram.